Hello, and welcome to my blog site! I'm Steven, and I live in Ayrshire on the West Coast of Scotland with my partner Jenn and our daughter Orla.
I have had an avid interest in cars and transport for as long as I care to remember, in particular anything with a VW badge!
I work as a Major Incident Manager for an IT Firm* which can get quite stressful, so in my spare time I enjoy getting the roof down in my Golf Cabriolet and going for a drive, weather permitting of course.
I am a committee member in the West of Scotland Volkswagen Club*, and run their website and forum. We meet on the first Wednesday evening of every month at Braehead, just west of Glasgow. If you are interested in joining or coming along to one of our club nights, drop me a message for more details! Visit the club site here.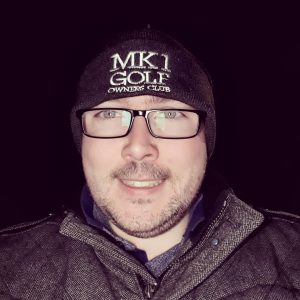 Me sporting my MK1 Golf Owners Club beanie hat… it was chilly that evening!!
* all opinions expressed throughout this website are solely my own, and do not express the views or opinions of my employer or any third party.