I recently picked up this "vintage" IBM Aptiva 2137-E30 Tower, which dates from 1997. It has a Pentium 200 MMX CPU, 144MB RAM (16 + 128) and a 4GB hard drive.
The guy that had it worked for IBM, so he's looked after it. It also explains the 128MB RAM expansion, which would have been a fortune back then! It has the original IBM 15″ CRT monitor, subwoofer, speakers and keyboard as well as all the manuals. The Canon BJC-240 Colour Printer does work, but the cartridge has dried up.
Booting it up for the first time brought back so many memories. The noise of the floppy drive as the system went through the POST process, then the hard drive kicking into life. Ahh bliss. I was pleasantly surprised to see it boot into Windows and display the desktop without any errors, albeit it took a good couple of minutes. Here are a few screenshots of how it looked "out the box" so to speak.
When the machine was new, I suspect it would have had Windows 95 OSR2 installed, owing to the surprise inclusion of a single USB 1.0 port on the rear. It has however been upgraded to Windows 98 SE at some point in 1999. The last defrag was done in 2004, and going by some of the last modified dates in the Windows System folder, I genuinely believe the machine hadn't been turned on since around then.
First thing I done was to remove the original Seagate 4.3GB hard drive and take a disk image of it. This was mainly to keep the contents for archive purposes, plus it means if anything happens I can revert the machine back to a known good working state. The contents of the image are now stored on a network share which is available to the machine, but I'll go into that a bit later.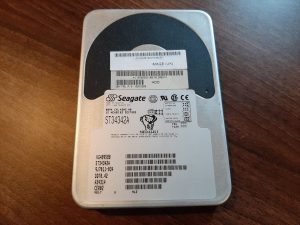 Instead of re-installing and formatting the original drive, I decided to keep it untouched (data and all), and I installed an 8GB Samsung Spinpoint drive from 2001 which I had spare.
Next I set about doing a fresh install of Windows 98 SE. I happened to picked up an OEM copy a while back, with the shiny full face holographic disc and all, so it was nice to finally use it in something of that era. The installation went without a hitch, and I was able to get all the period correct drivers from the IBM website.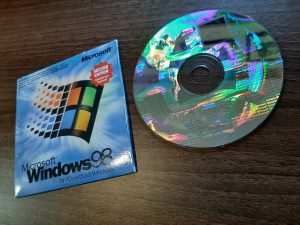 I then installed all the standard productivity software of the time, including Office 97 Professional, Frontpage 98 (retro web editing!!) and an old version of Winamp to play those old MP3 files.
The next week or two was pretty much spent playing classic games like Monkey Island and Jungle Strike…
Next was the installation of a network card. I found an old Windows 98-compatible network card with a Realtek chip on eBay for £4, which does the job just nicely.
I used some standard Realtek drivers, plugged the Cat5 cable into my switch, and it worked straight away…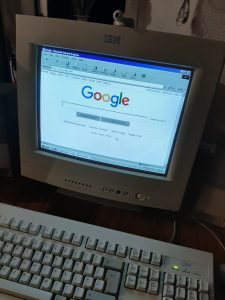 Rather than trying to get the machine talking to my Windows 2019 server, I decided to keep things simple (and period correct) by setting up a VM running Windows 2000 Server. Nothing fancy, really just to share some files and folders (hence only allocating 256mb RAM). I have another IBM machine that I will be covering in a later blog post, so I may use this as a Domain Controller as well further down the line.
I then setup some shared folders, and mapped a drive back to them. This was mainly just to save me having to waste blank CD's transferring stuff over.
Using Frontpage 98 and Microsoft Personal Web Server, I then set about creating a small web server which I'll use to host a couple of retro-themed websites. This includes one for the Scottish Amiga Users Group. I'll link to these in the future, but here is a screenshot of the front end as-is for now.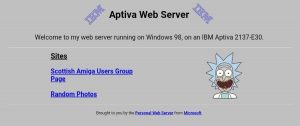 I then pondered around what modifications could be done to "update" the machine a bit without taking the retro feel away from it. One such modification was to replace the 8GB Samsung Spinpoint drive with a Compact Flash IDE solution.
I bought an 8GB Transcend CF card and a rear-mounted CF to IDE adaptor/bracket from eBay.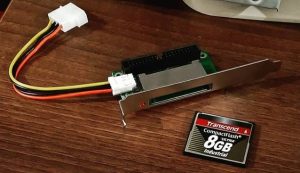 Using a CF to USB adapter I already had, I formatted the card to FAT. I plugged the adapter and card into the machine and the BIOS detected it straight away.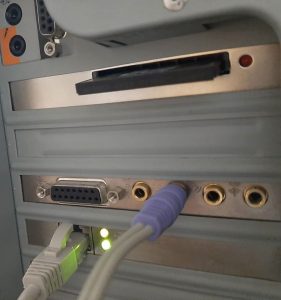 Rather than going through another fresh install, I brought out another old favourite of mine – Norton Ghost!! I hooked up the original hard drive, booted into Ghost and started imaging the hard drive over onto the CF card. The whole process took around 10 minutes and the machine booted straight up without any issues.
That's how I have been using it for the last month or so. With the distinct hum of the hard drive gone, it's clear the bearings on the CPU fan are a little noisy (not overly though), so I may look at getting a replacement fan at some point. I'll probably upgrade to a Pentium 233mhz at the same time, but that's for another day.
I'll be keeping the machine long term, though with so many different projects going on at the moment it's difficult to tell what the plan is next.  I did pick up a new old stock LS-120 drive (remember those!?!) , and a Hauppauge WinTV PCI card, both of which I did setup and test briefly. I'll do full reviews on these at a later date.
I'll update or comment on this post with any further progress as I go. Please feel free to post your comments and suggestions, it's always nice to hear your thoughts!!
Also, if anyone needs a copy of the raw original drive image for their own IBM Aptiva, get in touch. I'll happily upload it for you.
Thanks for reading!
Steven