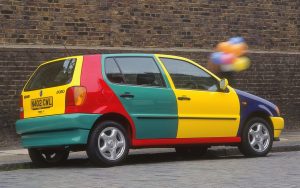 Back in 2003, I discovered and began researching the
Volkswagen Polo Harlequin. Released in 1995 as the Polo "Harlekin" in Europe and as the Harlequin in the UK, it was a special multi-coloured version of the Polo 6N, based around the CL trim level with a unique interior and blue steering wheel. It had a total production run of around 4,000 examples. Of those, just over 200 were registered and sold in the UK.
During my research, I learnt that the Polo had a similarly bizarre big brother across in the states – the Golf Harlequin. Intrigued, I got in contact with Ross Cupples, a Volkswagen enthusiast and collector from New Hampshire who purchased his first VW Golf Harlequin when nearly new back in 1997. I kept in touch with Ross, and over the following years he managed to collect 5 in total, one of each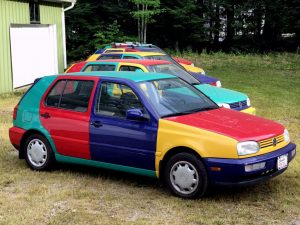 combination plus an extra. These were all welcome additions to his already extensive private collection of Volkswagens, ranging from earier air-cooled Beetles, Karman Ghias and Trekkers, to more modern 80's and 90's models.
Ross was was recently interviewed by Volkswagen on his experiences with the Golf Harlequin and his collection. You can read the article here, and you can see Ross' collection of VW's on his website here.